Tributes pour in for the mother of a visionary entrepreneur – Late Mrs Mercy Godwin Ogbebor.
Top fashion designer, actor, model, A&R, Director & Ceo/Founder K-Live entertainment/H.I.T Promo Limited Osarenren John Mr Kapish Ogbebor has announced the death of his mother on Sunday at the age of 78 years, who passed away 1st August 2022. The entire family mourns the passing on to Glory of their beloved mother, grandmother, aunty, sister and wife.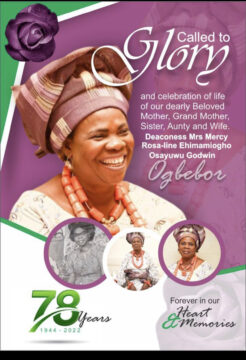 Late Mrs Mercy Godwin Ogbebor the, Benin City, Edo state,  Nigerian born London based lived her life, archived all  her dreams of becoming a role model to many and the world. She was blessed with eight children and twenty grandchildren – Late Mrs Mercy Godwin indeed lived a life well spent surrounded by her loved ones until her last hours to join Late Reverend Godwin Osadolor Ogbebor her hubby.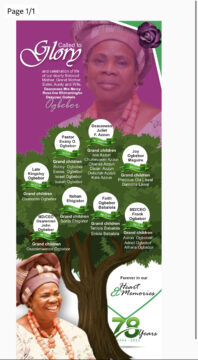 "Mrs Mercy Godwin Ogbebor was not only a God fearing woman, a visionary, but also a woman with a beautiful soul and great wisdom who left her legacy for her children and grandchildren to be remembered."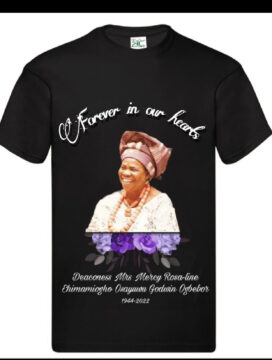 BURIAL/FUNERAL PREPARATION ARE :
The Burial date and progression has announced is scheduled for Friday 30th September 2022
Her Body leave 13 Cornell way Collier row RM5 2HA at 09.45AM promptly to the Church. Church service starts 10am at Corpus Christ Church Lowshoe Lane, Collier Romford Essex RM5 2AP.
Her body will be laid to rest at Forest Park Cemetery Immediately after the service Forest Road, Hainault Essex IG6 3HP.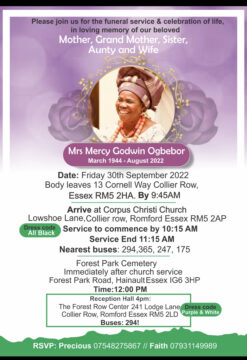 On behalf of everyone at K-Live Entertainment/H.I.T Promo HQ , we say MAMA thank YOU and WE Love YOU!
R.I.P GREAT AND SWEET MOTHER.
Osarenren John Mr Kapish Ogbebor
A&R, Actor, Model, Fashion Designer, Director & Ceo/Founder
K-Live Entertainment/H.I.T Promo Limited